Hello and welcome readers to Glamping food ideas…
A continuation of the 'Food & Hydration' topic in the post titled, How to turn Camping into Glamping
In this article we'll have a look at what gastronomic adventures can be had when we switch our mindset to GLAMPING mode
Let's face it Posse, Glamping is just a term created to describe ramped up camping and at the end of the day whether you want to call it 'camping' or 'glamping' the fact remains, we all have to eat and drink so below are a few ideas & cooking hacks to tempt your taste buds and spark your imagination on your next outdoor adventure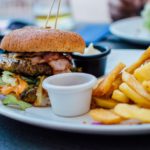 RESTAURANTS & TAKEAWAY – This first one is a bit of a cheat but let's face it, this is about Glamping so when we're after a bit of sustenance we don't have to go all 'Bear Grylls' and tuck into some Polynesian rat brain washed down with your own yellow juice (I ain't talking about the healthy kind either), just Google 'restaurants near me' and pull up a seat at the nearest fine eatery or even order out. SNAP!
ONE-POT MEALS – There are a lot of tasty One-pot meal recipes out there such as Chicken Chorizo Paella, Green curry rice with Salmon, Pizza Rigatoni, One pot vegetarian Chilli mac and the list goes on and all that's required is…well, one pot…Oh yeah, and a spoon
I highly recommend getting a good quality Camp oven (Dutch oven). They're absolutely invaluable for cooking in the outdoors
PRE-COOKED MEALS – Why not pre-cook your meals at home to take with you? Store them in zip lock bags and freeze, then it's just a case of reheating them. Remember these will only last a few days out of the freezer so gobble these ones up first
TIN FOIL COOKING – Wrap a humble potato in some tin foil and toss it onto some hot coals and in about 45 minutes, remove from coals, open foil and add some butter and you'll have cooked yourself a plain & simple feed BUT if you get a little more adventurous and cut your potato into quarters, add some diced bacon, a handful of chopped red onion and peppers, wrap it up and put into the coals and add some re-fried beans, shredded cheese and a good dollop of sour cream when you open it up then you have created a delicious all in one meal
Take it one step further and try making some gourmet tin foil meals for your next glamping trip. Your only limited by your imagination as to what can be achieved and the bonus is, there's SFA clean up afterwards. Give it a go
TINNED FOOD – Self explanatory really and yet while its description sounds pretty boring, have a look online at the endless tasty recipes you can create. Very convenient for packing & long expiry dates just don't forget the can opener!
FREEZE DRIED & DEHYDRATED FOODS – Again, very convenient and tasty with a long shelf life. You can dehydrate your own meats, fruits and veggies for tasty snacks or create meals by reconstituting with water and cooking. Whilst ready made freeze-dried and dehydrated foods can be purchased online or found at all good camping/outdoors stores why not master creating your own dehydrated meals and snacks? Suss out the articles Best foods to dehydrate and homemade jerky recipes
---
HEY! WHO WANTS A DRINK?
It goes without saying but I'm gonna say it anyway…
Make sure you stay hydrated on your adventures!
WATER –  is obviously at the top of the list but if you're doing some physical activities or just lounging around soaking up the sun and sweating, it's a good idea to get some electrolytes  into you. You can buy the sports drinks in bottles but it's advisable to buy the tablets or powders as they take up less storage space
WARM DRINKS – are always good to help make you feel cosy, help to wake you up in the mornings and even revitalise you during the day. It's a good idea to take single sachets of tea, coffee, drinking chocolate, sugars and sweeteners, etc. If you can't purchase them or you want to make your own blends then buy some small satchel bags and pack your own at home before you head off. Very convenient and good for space-saving
ALCOHOL – Who doesn't enjoy a nice cool bevy whilst kicking back and taking in the ambience of the outdoors? Here's a few ideas to help with your 'rest and recreation':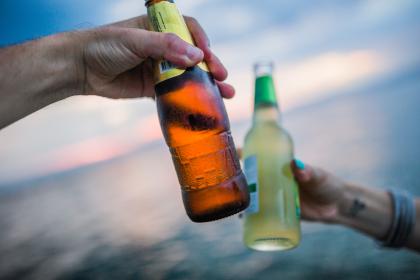 If taking beer  with you, opt for cans  as these are lighter in weight than bottles and take less to keep cool
If wine  (or any other drinks in glass bottles) is more your thing then one tip would be to put your bottles into clean socks. This will prevent them clanking around when travelling. It will also prevent breakages
If you're not the 'sophisticated type' and Box Wine is good enough (I mean come on folks, we're glamping after all, not having a dinner party) then take the bladder out of the box and freeze it prior to your trip it will help keep everything in your icebox cold as well as save a bit of space
Make use of Hip flasks  for the hard stuff.  It's easier to store (PLUS it looks way cool!). Again, if taking a bottle, throw it in a sock
Cocktails

anyone?…
Glamping cocktails at sunset are a superb way to relax and have fun with friends in the great outdoors and there are some awesome cocktail recipes you'll find on other cool sites and you can also buy cocktails and cocktail premixes in a pouch. Check them out and have some fun with them
One thing I like to do is to celebrate the first night away from the everyday grind by having a cocktail party  with family and mates. It's a good way to meet new people too
It would be remiss of me to not state at this point to Please drink responsibly… You do want to remember your Glamping experience after all 😉
THANKS FOR READING AND…
WAIT, THERE'S MORE…
Whether you're camping or glamping, I hope you got a bit out of this post and although I did not delve into the recipe side of things I have included a link here which will give you an absolute ton of delicious recipes for your next outdoor adventures. Enjoy.
Until next time…
HAPPY ADVENTURES!