FOCUS COLLECTION –
TENTS

OK SO YOU'RE TENT HUNTING…
Usually the first question that will come to mind in your pursuit of finding a tent that will suit your camping needs will be 'What is the best tent for camping?' and no-one, not even the most seasoned camping expert can give you a definitive answer to this question as there are so many variables such as; design, size, price, when and where you will use the tent, colour, UV and water resistance and the list goes on and on
During the course of this article I hope to help you get closer to finding the best tent for YOU by:
Putting forward some important factors for you to consider
Presenting you with some modern tent designs
Exploring differences in quality
Also, there will be some handy tips at the end for you to check out
FYI, this post is part of a Odyssey Posse Focus Collection about tents, developed to give you an extensive insight into all things 'tents'; Their design, Construction and Functionality plus a whole heap more so be sure to check out other related tent posts
SIZE – Transport, Area, Capacity
Do consider the following elements when it comes to what size tent you see yourself with:
– How will you be transporting your tent? (Hiking, Cycling, Kayaking, In/on a vehicle, etc.)
– Where will you setting the tent up?
– How many people will be sleeping in the tent?
– How much room do you require inside your tent for your gear?
– Will your tent be used for sleeping only? i.e. laying down in only (Height is a big factor)
Keep in mind the questions above when deciding on your tent as not only will it help you to choose the assembled size but it can help maximise your storage space when packing as well
WEATHER CONDITIONS – Rain, Hail (hope not), or Shine
Another factor to consider is the weather conditions you might experience on your adventures or another way of looking at it is, the conditions you envision and your expectations of your tent, not only in the way of providing shelter but comfort as well
Will you be looking for a tent to go camping in warmer conditions where you would require good ventilation yet still expect it to withstand the odd downpour or two or would you be using it in extreme cold conditions where you may be likely to encounter snow?
A lot of popular camping tents these days are called "3 season tents" which will typically have you covered for the 3 fairer seasons of the year and for the colder weather there are "4 season tents" or "winter tents" as they're also known that are designed for harsher conditions (ie. snow, strong winds, heavy rain, etc.) and are not very suitable for use in warmer climates. Let's look at these types of tents in more detail in What is a 3 season tent?
It is advisable to look at the prospect of buying a few different tents which will be most suitable for the elements you expect to encounter
DESIGN – Common types
POP UP TENTS –  A versatile tent suitable for a novice camper right through to an experienced tourer. Once taken out of the bag they literally just POP UP with the outer fabric and floor already attached and setup in just seconds. It's then just a matter of pegging them down and doing a few extra steps depending on the make and type (ie. adding a rain fly, securing guy ropes, etc)
Most designs are comprised of flexible poles that when packed up form multiple hoops that pack neatly into a round bag. These tents are ideal for overnight and short stays and are commonly used by festival goers for this reason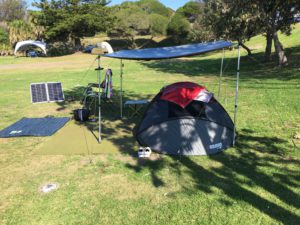 They don't stand up to the elements as well as some of the other tents described here, but do your research you might find one that ticks all of your boxes
Put your Pop up under a portable gazebo or set up a tarp shelter for additional shade and/or protection from harsher weather. You can also get creative with it and add some lights, hang some knick-knacks and set up your own little oasis
DOME TENTS – Would probably be the most increasingly used style of tent by recreational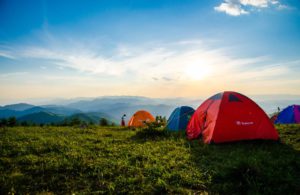 campers these days as they come in a multitude of sizes and are relatively robust and easy to setup. In their simplest form they come with two  segmented, flexible poles which, when connected are fed though fabric sleeves and/or clipped on the tent in a criss-crossed fashion and connected to the bottom corners of the tent
Some come with extra rooms which are usually just an extension off the main tent using similar poles.  The tent is then pegged to the ground
TIP: Providing the tent comes with a built in floor, you can use heavy rocks in each corner inside the tent to hold it down if you forget your pegs)
As just mentioned, built-in bucket/tub floors are available in dome tents (as they are included in most tents these days) and are great for keeping you dry when it's wet out and relatively clean (they also keep out any creepy crawlies)
TUNNEL TENTS – Are characterised by two or more flexible poles which bow into an arch once set up and they run parallel and in alignment with each other which, when covered give the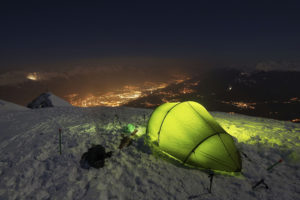 appearance of a tunnel. They are quick and easy to setup and hold up well in windy conditions providing the guy ropes are all nicely secured
The tunnel tent also gives more headroom and sidewall space compared to the dome tent. However, whereas Dome tents are freestanding, tunnel tents need to be pegged out and secured at each end to remain upright so don't forget your pegs
Tunnel tents come in a variety of sizes and are increasingly becoming popular with families due to their near vertical walls and head height
CABIN STYLE OR FAMILY TENTS – As you would expect bigger tents than usual and they come in a  large range of designs. From a single room option through to multiple rooms with awnings and other additional features. Some of the designs are quite fun and creative but choose wisely as there are a lot of cheap & nasty products on the market too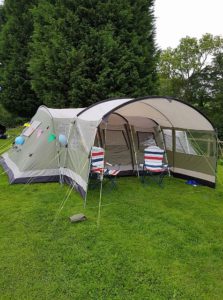 Be mindful of pole strength and fabric durability as you will want to get as many uses from your tent as possible without breaking poles or holes and tears appearing in your tent. Setup/breakdown is another thing to consider as some tents will require two people for this
Also bear in mind the area of your campsite. There's nothing more inconvenient than rocking up with a tent larger than the site it's intended to fit on
TOURING TENTS – These tents are basically designed for a quick setup/pack up and are primarily used by 4 wheel drivers and tourers on the go. Small through to large versions are available but it is worth mentioning that they tend to take up more space when packed up than
their (equivalent capacity) counterparts therefore require more space when transporting
As with Cabin tents, check out how many people are required to set it up
Some touring tents by design aren't as capable to cop a beating from harsh weather as some of the other tents covered and it's also a good idea to research if you may need an additional awning(s) to keep out the rain as this is sometimes the case and will add cost, time to set up not to mention take up more space than you may have expected
Overall though these tents are very popular and are great for what they are designed to do. Some are nearly as quick to setup as Pop-ups with some manufacturers boasting "set up in just seconds"
SO, WHAT IS THE BEST TENT FOR CAMPING?
Whilst the above article provides an overview into some of the most popular tents on the market today, you should also check out the article What are tents made from? for a more detailed look at the pros and cons of different tent fabrics, coatings & poles to help you make an even more informed decision about what is YOUR best tent for camping
If you'd like to share your thoughts or have any questions then please feel free to do so in the comments section below
Until next time…
Happy Adventures!